Can you drive to Manpupuner?
Man PuPu Ner (Мань-Пупу-нё) or the "Seven Strong Men" (wikipedia) are an impressive and hard to reach stone formation in the Urals, Russia at about N 62.253541 E 59.295273.
In Summer 2016 we tried to drive as close as possible to Manpupuner as possible coming from the south via Ivdel. This happened during our western Sibiria trip. I had asked around before but got little feedback on the possibility to get there. It can be done by motor sled in winter and has been tried by bike.
We where driving highly offroad capable but heavy and large trucks. 3.7 m high, 2.55 m wide, about 11 t, 125 cm diameter 14.00 tires and high ground clearance.
moreSince most tracks are cleared for large wheel gauge wood moving equipment this was a very good fit although we got a lot of scratches from the vegetation on the last few kilometers.
(Use Google Translate in the links if you can't read german) we left the Asphalt in Ivdel and it took us more then 7 hours to drive the 125 km (less than 17 km/h on average) to Ushma (Ушма). 9:30 hours total travel time including orientation and breaks. There where major river crossings. See this blog entry for further information.
The next day we moved further to N 61.75802° E 59.83901°, a place we named the "Mining Camp" at the shores of the River Lozva.

This 32 km took about 5 h driving from Ushma (Ушма) to there. So from Ivdel it
was 157 km and 12:30 h of pure driving time resulting in a average speed of about 12.5 km/h.
See left for the route Ivdel to"Mining Camp" with speed coded by color.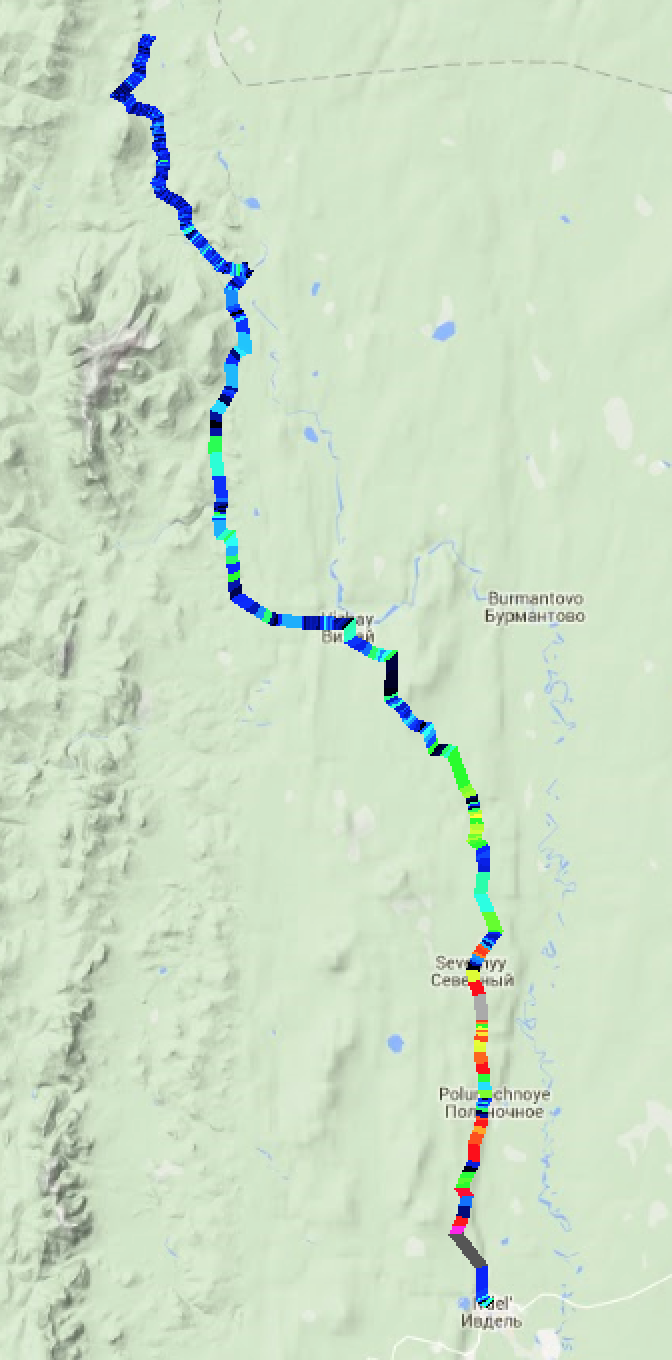 The last 25 km where very hard on the material containing river crossings, very muddy passages, broken timber road sub-construction, tight grown forest an young forest leaning in into the track. So this was slow going and producing scars on our trucks.
At N 61.70855° E 59.78618° there is a fork. If you take the western route you can follow the river Auspia and then go further to the Dyatlow Pass. This route seemed less well maintained and we assume it is wet because of the Auspia. So we took the northern route the the "Mining Camp".
From there you can go west crossing a 635 m pass about 9 km north of the "Mining Camp" and then go another 12 km to the Dyatlow Pass.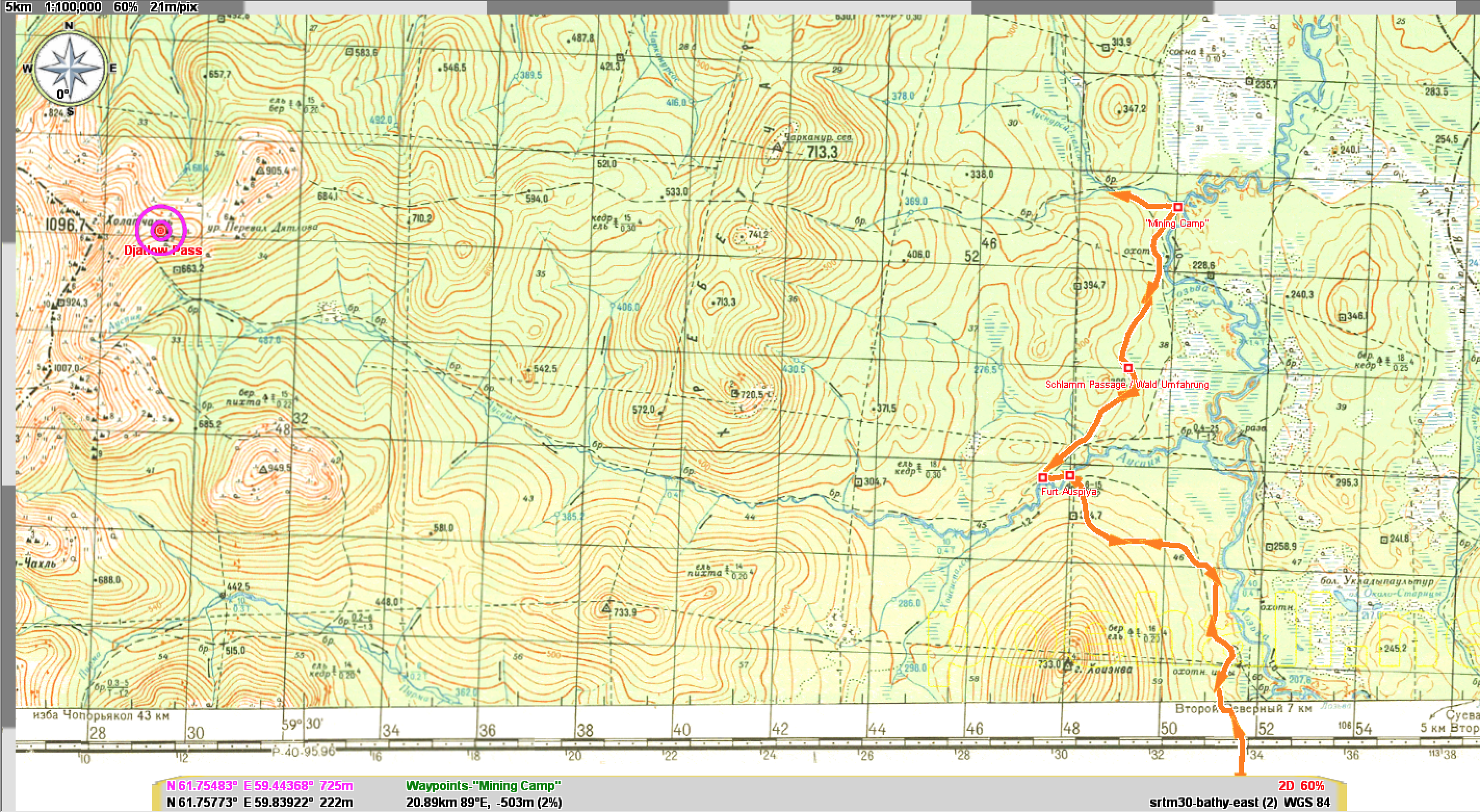 We did turn around about 1 km west of the "Mining Camp". Road conditions where kind ok, but we where annoyed by the slow progress. See this blog entry for further information.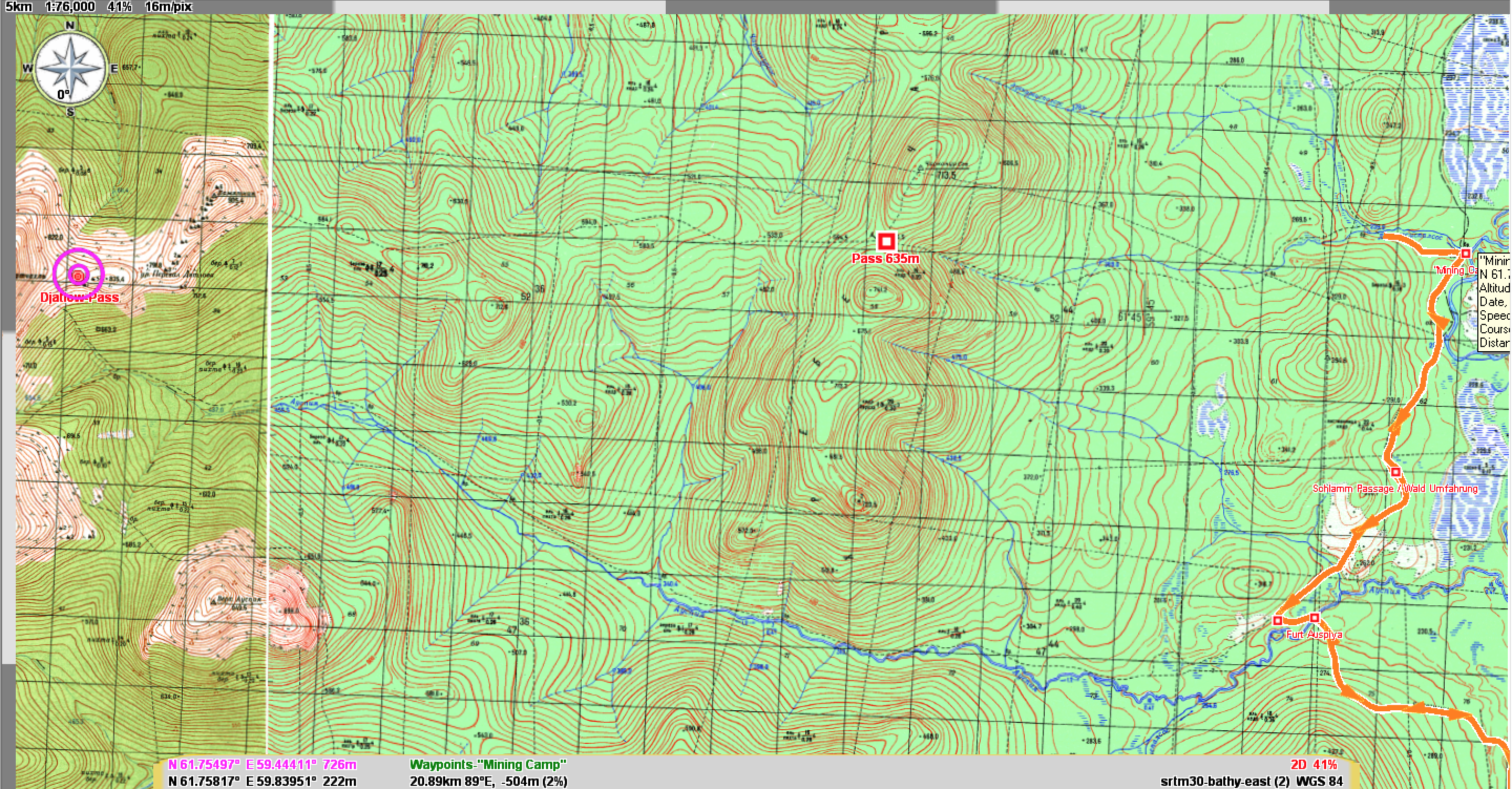 So can you drive to the Dyatlow Pass?
We are not sure. We have been told different information by different sources. Most People told us "too rocky, to steeps, trees too dense" for our trucks. Others (the staff at the "Mining Camp" and some offroaders we met near Serow where sure we could make it.
I'm certain that it is possible to go there by quad, enduro and bicycle.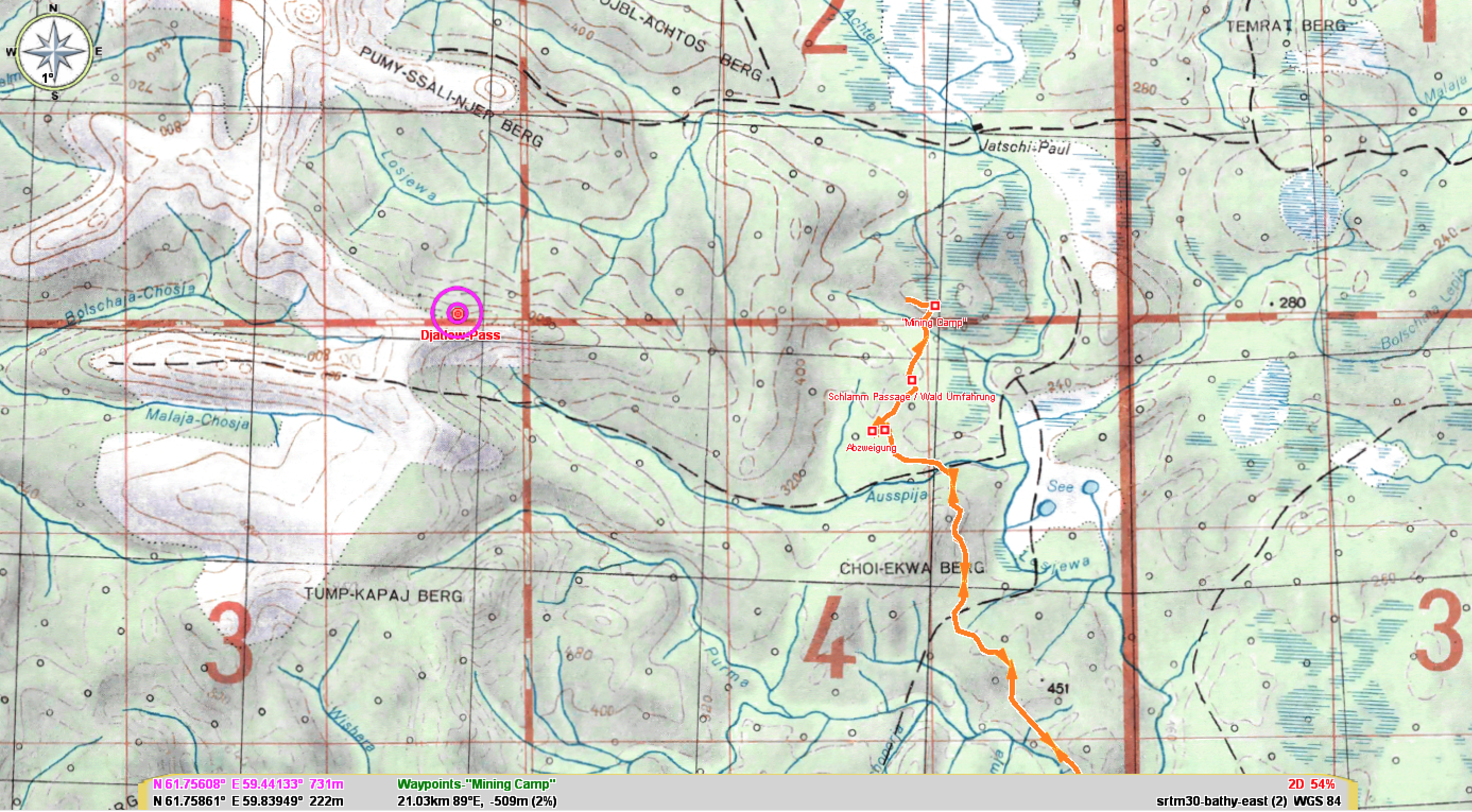 And can you drive to Manpupuner?
In none of the topographic maps I have access to is a path leading north from Dyatlow Pass shown. OpenStreetMap/OpenTopoMap shows such a path.
the staff at the "Mining Camp" and the offroaders we met near Serow told us we could drive this path. The offroaders had pictures to proof that they have been there in winter. They told us we could park at "a campground" "about 2 km" distant from the rocks and just walk the last part. I assume they refer to N 62.23467° E 59.37424°. I'm not sure if this all was a misunderstanding.
This is a 80+ km track in mountains terrain. I find it hard to belive that this is drivable by a 11 tonnes truck.